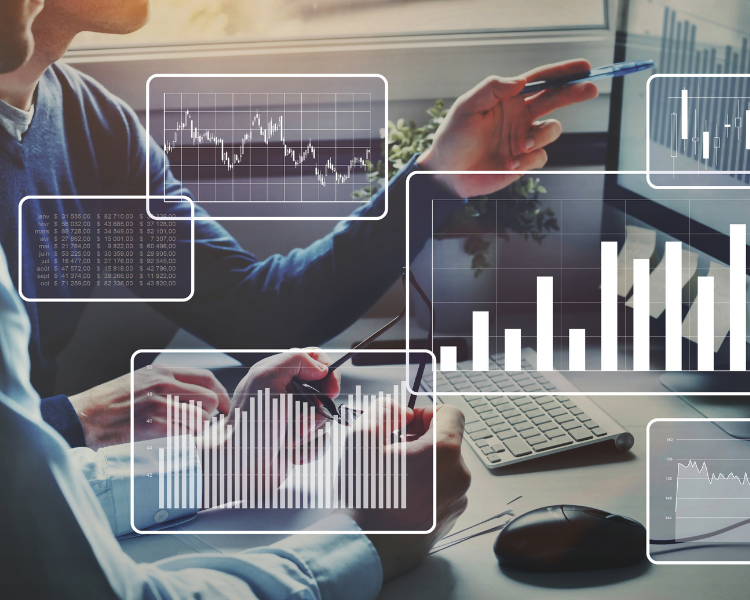 Data Science Career in Pakistan
All of us have come across a situation where someone tells us that Data Science is the future. But is this true? Over the past decade, demand for data science skills has skyrocketed globally. Moreover, this field has been pushed further towards the center of the spotlight after the pandemic. Due to the pandemic, business practices and consumer behavior have drastically shifted towards digital media. With the progressive rise in online businesses, analytics has become a core component. As a result, data is cemented as a navigational tool for businesses regardless of the industry.
"Data is the fire of the 21st century, and analytics is the gasoline."
Since the world is now awash in data, businesses can see the consumers more clearly. Organizations are now realizing the upside of data-driven decision-making as managers can now rely on solid facts and predict the future. These findings can be related to consumer behavior, needs, and shifts required to compete with other competitors. Data Science is new to Pakistan; thus, very few institutions provide the opportunity to become a data scientist. However, we can readily see that the data science jobs in Pakistan are rising progressively.
Today, almost every industry, such as health care, transportation, and entertainment, is driven by data and statistics. Pakistani businesses will increasingly rely on data and analytics combined with artificial intelligence (AI) in the coming years. Before covering why, you should align your skills with what's coming ahead, let's skim through some statistics first.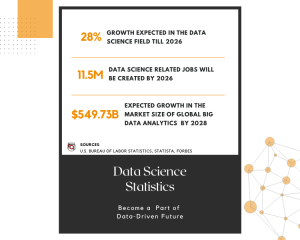 The above statistics clearly show that data scientists will be in constant demand because it is and will be a data-heavy world! According to the US Bureau of Labor Statistics, data science jobs will grow rapidly. Additionally, 75% of enterprises will transition from piloting to operationalizing AI, growing streaming data and analytics infrastructures up to 5 times by 2024.
"Data Science is a field in the spotlight that offers high salaries and big opportunities. It is the Future!"
Furthermore, over 33% of large organizations will employ analysts who are able to perform decision intelligence, including decision modeling, by 2023. Advanced analytics tools, such as predictive analytics and data mining, are crucial in extracting value from data and generating new business insights.
Who is a Data Scientist? 
Data scientists are valued professionals who can help organizations make data-driven decisions. As a result, there is an increased demand for individuals who can wrangle data to develop insights that will empower businesses to maintain a strong market position and help them grow.
To use a data pool, a data scientist will use computer science, mathematics, and statistics skills to analyze, process, interpret and store data. However, it is not just the game of numbers. This field will also require a strong business and research sense to discover the trends best suited to the business's needs and vision.
Why Data Science? 
Data science in the current era has started to become a necessity. Companies are continually using some data analytics applications to compete in the market. Making sense of vast information can reduce the horrors of uncertainty for companies.
As a student or a graduate, you can enter the field and perfect your skills. Since the industry is still in its infancy, you have a good chance of succeeding and becoming a leader while there is a knowledge and skill vacuum.
A Field with Endless Applications 
Data is essential to all organizations and at all levels. But unfortunately, many of us think that we will be limited to IT or software companies by learning this skill. The truth is that data expert are needed in banking and finance, automotive, energy, healthcare, transport, retail, and virtually every domain you can think of. Since every stage requires useful, meaningful, strategic information from small regional offices to the boardroom, therefore, you have a plethora of options for the industry you want to join.
Take the example of iTunes. It took them 100 months to reach 100 million users in 2003. However, fast forward to 2016, Pokémon made it to the million mark in just a few days. This is a massive evolution in digitizing social platforms that run on data insights. Wouldn't you want to be a part of this data-driven digital transformation? 
Businesses That Use Data Science in Fascinating Ways
There is more information generation than ever. According to Seagate, the worldwide data is on track to be more than 175 zettabytes by 2025. But, more importantly, the continuous innovation in big data and AI has made data valuable for businesses. Due to this, there is a constant and increasing need for trained and skilled scientists who can uncover the precious insights that are vital to a business.
Here are some interesting examples that will motivate you to invest in yourself to be a part of the data-driven future:
The airlines used the power of data science to reduce their planes' idle time. So, instead of waiting on the tarmac, the aircrafts were utilized strategically. As a result, Southwest airlines were able to save $100 million just by leveraging data. Now imagine what wonders can this do in the Pakistan Airline industry. The applications are limitless; you just have to be the bearer of change. Sign up now or get free career counseling! 
Data science is a major popularity booster and user-magnate for Netflix. The business has over 214 million global paid memberships. So, what's the secret? It uses advanced data and analytics to provide users with personalized recommendations. In addition, it predicts the popularity of original content and can personalize marketing content.
So, if you are a data scientist, you will measure the viewer's habits to provide them with the content they will be interested in. Result? A very strong customer loyalty. Now think of this in the context of Pakistan. Channels can use your skills related to predictive analytics to produce and provide content tailored to the audience's interest.
These are only two of the most famous examples of businesses utilizing data science and incorporating it into their business model to save money, be profitable, and provide a better user experience.
"Who says you have to wait for a job to pop up tailored to your field and experience. Instead, start working for the opportunities that are rising rapidly and secure a strong position in the world where data is gold?"
Apart from these, supermarket chains, educational institutions, health care, financial services and several other industries are making their services hyper-personalized. So, if you choose to become a data scientist, you can get into the industry by learning the necessary skills to add value.
5 Reasons to Pursue Data Science as a Career
If you still feel indecisive, then here are some advantages of becoming a data scientist that will give you a nudge to get yourself prepared by acquiring the needed skills:
You will add tremendous value to an organization, and since the field is constantly growing, there will be no limits to where your role ends. So, you are likely to move up the ladder.
Choose where to branch out 
Consider the data science field as a giant tree. There are several branches, and it's up to you where you want to go. For example, you can become a data engineer, an analyst, a machine learning engineer, or even a data science manager.
For all those who want to get into an exciting and growing field that will help them make big bucks, this is where you want to be. As a Data scientist, you can expect to get an excellent salary package.
Becoming the decision leader 
Not all of our jobs give us the power to make informed business decisions. However, careers such as data science incorporate this part as the core responsibility. So, if you want to engage in a job that requires your judgment, then this is for you.
Since the industry is in its infancy in Pakistan and is highly analytical, there is relatively less competition. Therefore, there is a limited talent pool available to the business. Take advantage of this situation and register yourself for our courses. Let's analyze some data!
Why Choose DICE Analytics?
There is a huge misconception that the path to data science is defined and linear. The truth is that you don't have to climb the traditional educational stairs to become a data scientist. So, forget about having the right subjects throughout college and university. Instead, you can learn the necessary skills without having a degree.
At DICE, we understand very well that not everyone will have a computer science background. So, looking at the industry needs, we have designed courses for people who have no prior information or have computing skills. So, you start at base zero and climb your way through the different levels to become an all-rounder data scientist.
Moreover, we are well aware of the current employment situation. According to the PIDE, 24% of educated people are jobless at the moment. This is due to a multitude of reasons. So, if you are interested in this growing field, you can shift to it by upgrading your skills and entering the job market full of opportunities.
In addition, for those people who have sound technical knowledge, we have advanced courses that will equip you with the right skills. You can then enter the industry with the right tools under your belt to play your part in the data-driven world.
Our instructors are expert industry trainers. They have years of extensive experience and will equip you with the proper knowledge that the organizations need. Apply now!
The Job Market 
When we say that the job market is full of opportunities, it is not limited to foreign giants such as Facebook, Google or YouTube. By researching the jobs currently available on Glassdoor, you can find many Pakistan-based companies that want data scientists. These include Careem, Jazz, HBL, SWVL etc. So, you have to take the first step to bring yourself up to speed by upgrading your skills. See you in class!
Training provided by DICE Analytics 
Here are the instructor-led courses that we provide at DICE:
Feel free to go through our course outlines for each training. In case of any query, you can reach out to us on our website or give us a call. In addition, you can read our student testimonials and listen to the success stories that will further motivate you to join DICE Analytics.
This was a little walk in the business world about data science and how you can benefit from this field. Here is where you can begin your journey to become a successful data scientist. Visit our website to get started with online courses. Let's conquer data!